Increasing Risk of a W-Recession
| Posted on: | Category:
Stress Testing
Creating economic scenarios through the COVID-19 crisis continues to be a challenge. In the last week we had new economic data reporting on conditions three weeks ago heralding the creation of 4.8 million new jobs. At the same time, reports of skyrocketing coronavirus cases are causing businesses to re-close and some of those same newly rehired people to be laid off again. We will not know for another month how many people are losing their jobs again, but continued job growth seems doubtful for a while.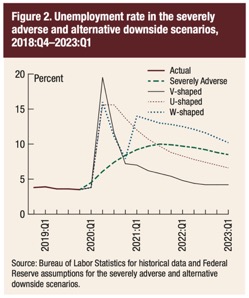 Of course, we warned about this possibility months ago. Slow and steady wins this race to simultaneously control coronavirus and restart the economy. Our W-scenario was specifically designed with the thought that if we reopen too soon and too fast, coronavirus cases could rebound and the economy could be forced closed again. Trying to force a V-shaped recovery without a solid plan for combatting the virus is the method for creating a W-recession instead.
We're not the only ones who think so. The Federal Reserve released its "Assessment of Bank Capital during the Recent Coronavirus Event" on June 12, 2020. Their V, U, and W scenarios are almost identical to what we have been using. Before their release, we thought that we would add a set of supplementary scenarios to fill out the needed DFAST variables from the Fed's V, U, and W scenarios. Clearly, that won't be necessary. As we look forward to future revisions, how states handle the coronavirus resurgence will be key.
Data Quality
As reported last month, employment data quality continues to be an issue. The Bureau of Labor Statistics again reported that some people are being incorrectly classified in their reports. The reported 11.1% unemployment rate could have been 12.3% if potentially misclassified people were included. The BLS does not alter the data as reported from the field. For purposes of creating the best scenarios possible, we do. Rather than the official numbers, we have been using the adjusted unemployment rate since March.
Where some key statistics have not been reported for several months, we attempt to estimate those unreported values using measures similar to the official DFAST variables. Ironically, one of the variables most out of date is the US Index of Leading Economic Indicators. It's not very "leading" if it hasn't been reported since February.
The Next Big Uncertainty
Real (and nominal) disposable personal income (DPI) experienced a dramatic 13.6% increase in April via the combination of assistance checks to consumers and increases in unemployment benefits. It dropped in May by 5% with no more assistance checks, but still represents a dramatic increase in consumer financial status.
Historically, sudden increases like that in April are followed by a roughly equal drop the following month. Our models initially predicted that snap-back in May, but when the drop was only partial, the models took that as the new baseline level for the latest scenarios.
We fully expect that politicians will not continue these benefits indefinitely, but we don't know when it will end. If some businesses are forced to re-close, congress may finally move to extend these assistance programs. In an election year, it seems logical that such an extension would go at least through November. Our models don't know that it's an election year or how the next congress will respond to the crisis. Neither do we. Therefore, we have not done any kind of override on the model's prediction that Real DPI continues from this new baseline level under all three recession scenarios. When the future of government assistance becomes clear, we may incorporate that into the scenarios.
Scenario Details
The most recent economic data does not require significant changes in our scenarios. The V and W scenarios already aligned with these updates. The U is revised to carry forward from current unemployment levels.
"V" Scenario
A V-shaped recession assumes that by mid-summer we see a dramatic wave of businesses reopening and employees being rehired. This would be driven by a resurgence of consumer confidence. That can happen if the following proves to be true: (1) the asymptomatic population proves to be so large that we are already more immune than we realized. A recent Swedish study reinforces this view. (2) Dexamethasone continues to reduce mortality and ICU visits by one third. (3) Hospitals are prepared now for the level of cases that come in. (4) Many businesses are able to reopen with a low-density business model or other innovations. All of these are true to some extent, so a V is possible, although it's difficult to say how much so.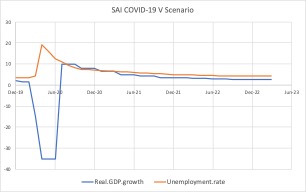 Recent trends in Florida, Texas, Arizona, and many others bring the "V" into doubt. Some state governments and the general public tried to force a V, but a U might now be the best case.
"U" Scenario
A U-shapred recession happens if the previous points are all partly true. The summer is mostly flat as businesses and medical professionals work through what is needed and consumers regain some confidence. Q3 sees a gradual beginning and Q4 is when real growth begins. For the U scenario, we incorporated the April improvement but assume that businesses reopenings will stall for through the end of the year. The result is a long, slow recovery. This scenario is likely given current trends in new coronavirus cases.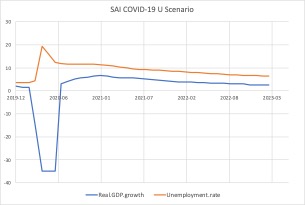 "W" Scenario
A W, L, or checkmark recovery is where we struggle to put these pieces in place. If the reclosing now hitting some states becomes severe, more businesses will have to close permanently.
The greatest harm from the reclosings could be to consumer confidence, making it even more difficult for businesses to re-reopen in the future. Many local businesses will find that a low-density business model does not pay the rent. Those business failures could lead to a further drop in commercial real estate prices and defaults on CRE loans. (See Green Street Commercial Property Index as a more real-time example of what is happening there.) This drop in CRE Index is captured to varying degrees in all of our scenarios. The system will eventually self-heal with new business models at lower costs per square foot, but that process takes us well into 2021.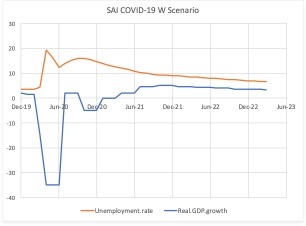 Comparisons
The revised-V, U, and W scenarios are all in play at this point. As always, we know that COVID-19 will spread. We know that our hospitals are better prepared than before. What we cannot predict is the delicate balance between consumer enthusiasm for normalcy and spread of the disease. Too much of either is bad for the economy. We will continue to monitor this balancing act closely.
Software Delivery On Monday, July 6th, we will make these three scenarios available to our clients: COVID-19 V 20200706, COVID-19 U 20200706 and COVID-19 W 20200706 Software users will see the scenarios appear in the software. Please contact us if you have any questions.